Cultural Heritage Protection
Our heritage is strong across our landscape, and Aboriginal cultural sites and artefacts can be found along our songlines, and trade routes, mountain ridges and waterways. They remind us about the ways of our Ancestors and show our close and continuing connection to Country.
– Gunaikurnai Whole of Country Plan
Some of these sites have been recorded, however many have not yet been found and protected. Our spiritual connection is something that cannot be seen, but nevertheless exists strongly in the places we walk and in the paths of our ancestors.

As a Registered Aboriginal Party (RAP) under the Victorian Aboriginal Heritage Act 2006, GLaWAC is the primary source of advice and knowledge for the Victorian
Government on matters relating to Aboriginal places located in or Aboriginal objects originating from our area.

The GLaWAC RAP Team administers a process for Gunaikurnai Traditional Owners to protect our cultural heritage within the Gunaikurnai RAP area and to comment on the protection of Aboriginal cultural heritage within adjacent non-RAP areas.
What areas are included within the Gunaikurnai RAP boundary?
If you'd like to see an interactive map of the GLaWAC RAP area, you can explore this map online:

Interactive Map

Click on the layers section in the toolbar and in the drop-down contents box, tick the box titled "Appointed RAPs"(see arrows in the screenshot below). You will now be able to explore the GLaWAC RAP area!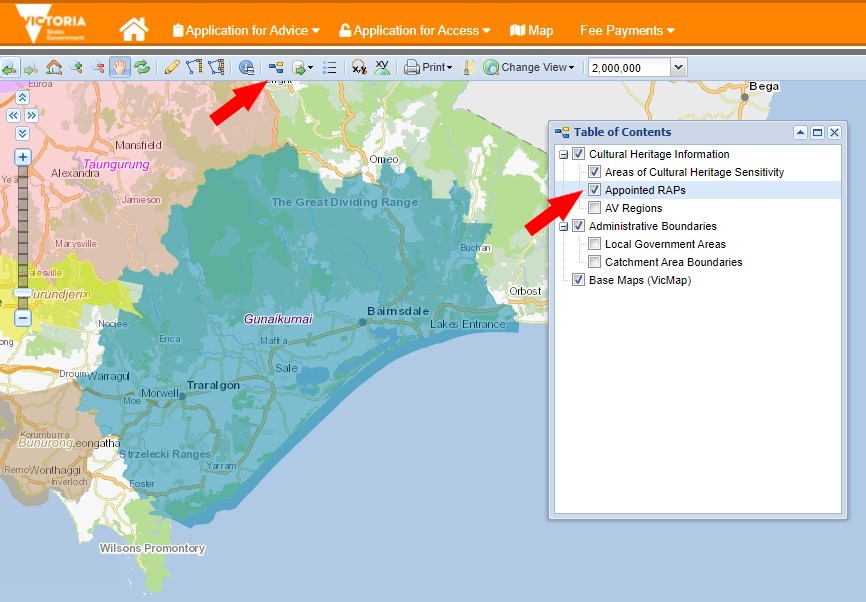 What is the Victorian Aboriginal Heritage Act 2006 about?
How do I know if I need a Cultural Heritage Management Plan or Cultural Heritage Permit?
Before starting any development activities it's important you understand if it could affect Aboriginal cultural heritage. That way, your development can proceed smoothly without costly interruptions.
To find out more about the requirements for managing and protecting Aboriginal cultural heritage, please click here
Cultural Heritage Booking Form
GLaWAC participates in the preparation of Cultural Heritage Management Plans (CHMP) and evaluates plans prepared by its Cultural Heritage Advisors. We also consider and advise State and Local Governments on applications for Cultural Heritage Permits, negotiate and enter into Cultural Heritage Agreements and advise and negotiate the repatriation of Aboriginal cultural heritage.

To make a booking, please click the button below and email the completed form to the Cultural Heritage RAP Team at rapmanager@glawac.com.au
Take a listen to GLaWAC RAP Team talking about the importance of preserving and recording the cultural heritage of our people.