Mitchell River planting
22 June 2020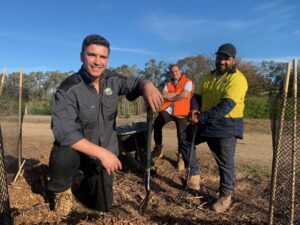 Our NRM crew were out caring for Country on the banks of the Mitchell River last week, working with the East Gippsland Catchment Management Authority upstream of the Lind Bridge in Bairnsdale.
Crew member Max Solomon remembers that the area was fully overgrown a few years back before they started controlling the weeds and replanting native seedlings. "Now the trees and shrubs are really starting to take off and there's plenty of people using the walking track."
Don't forget to say hi if you happen to see Max and the crew on your next walk down by the river.